Join creative industry policy makers, researchers and practitioners from around the UK for a day of lightning talks, panel discussions, keynotes and performances.
The State of Creativity will be held at the BFI building in the iconic South Bank Centre. You will get to listen to leading thinkers from across the country and internationally share the latest findings on key themes such as inclusive growth, R&D, skills, education, and createch.
We'll reflect on policy changes over the last 25 years - from the era of cool Britannia to today - and ask, where next for the creative industries?
Presented by the Creative Industries Policy and Evidence Centre (PEC), funded by the AHRC, this networking opportunity will set out the next stage of the journey for the PEC.
We invite you to share your reflections on how the sector can best work together to ensure the UK remains a world leader in the creative industries, leading innovation, with a view to growth, inclusion and sustainability. The day will include the launch of a major new report on the research and policy landscape of the creative sector.

Thanks to generous support from the AHRC, attendance is free, however places are strictly limited due to venue capacity.
Further speaker and performance details will be announced in the coming weeks.
Speakers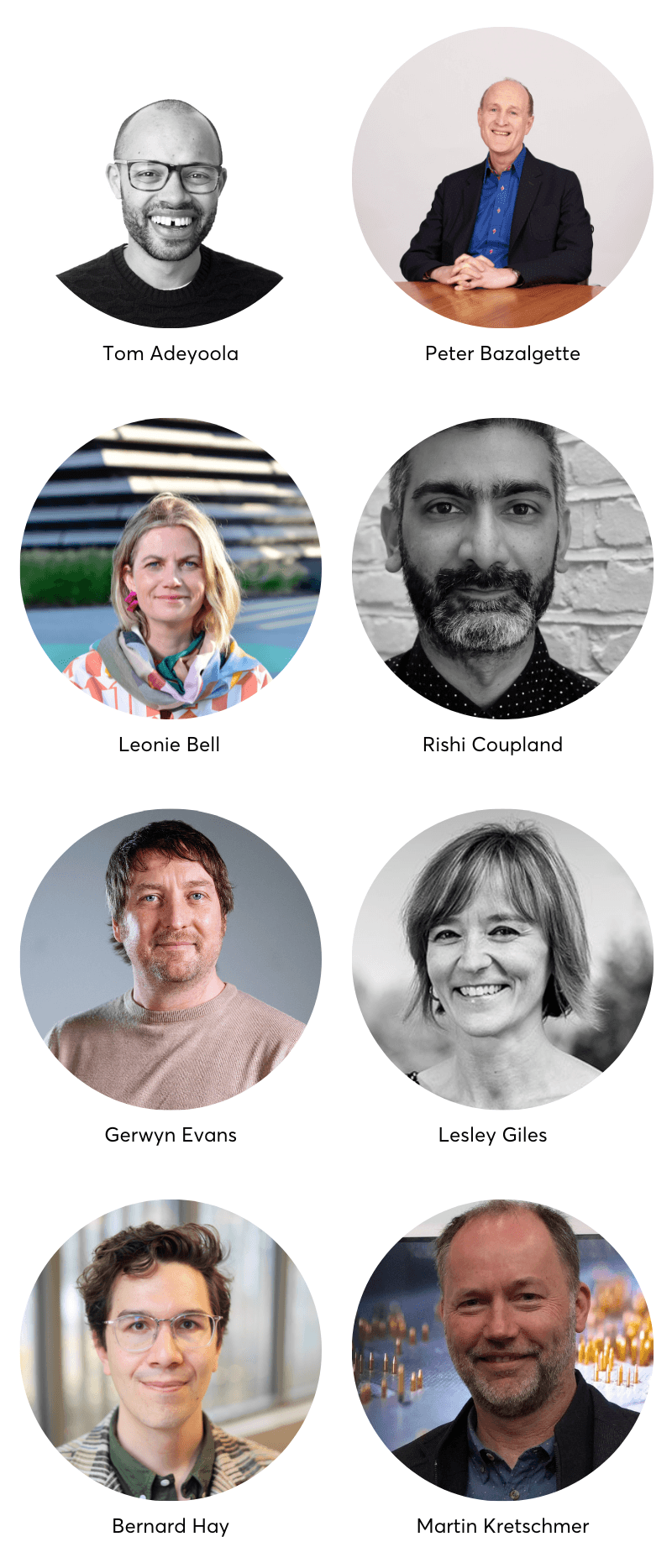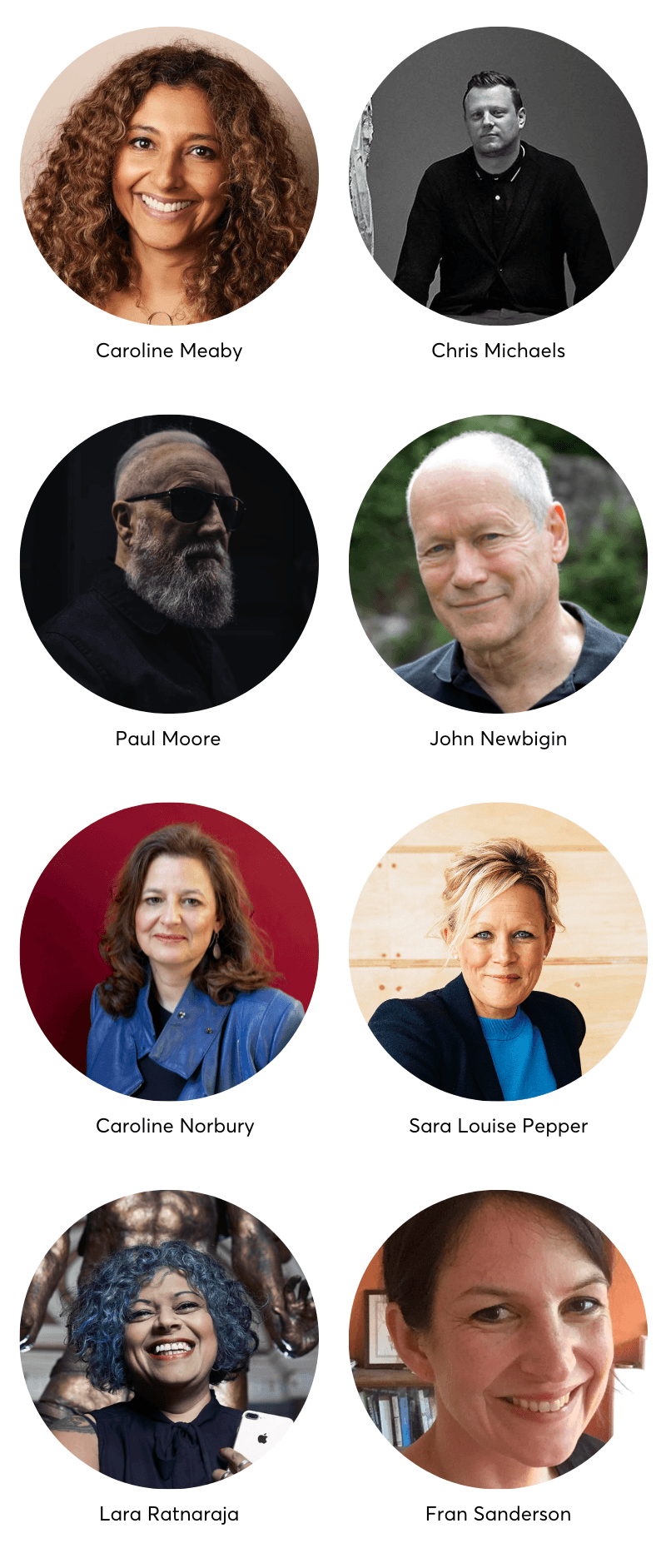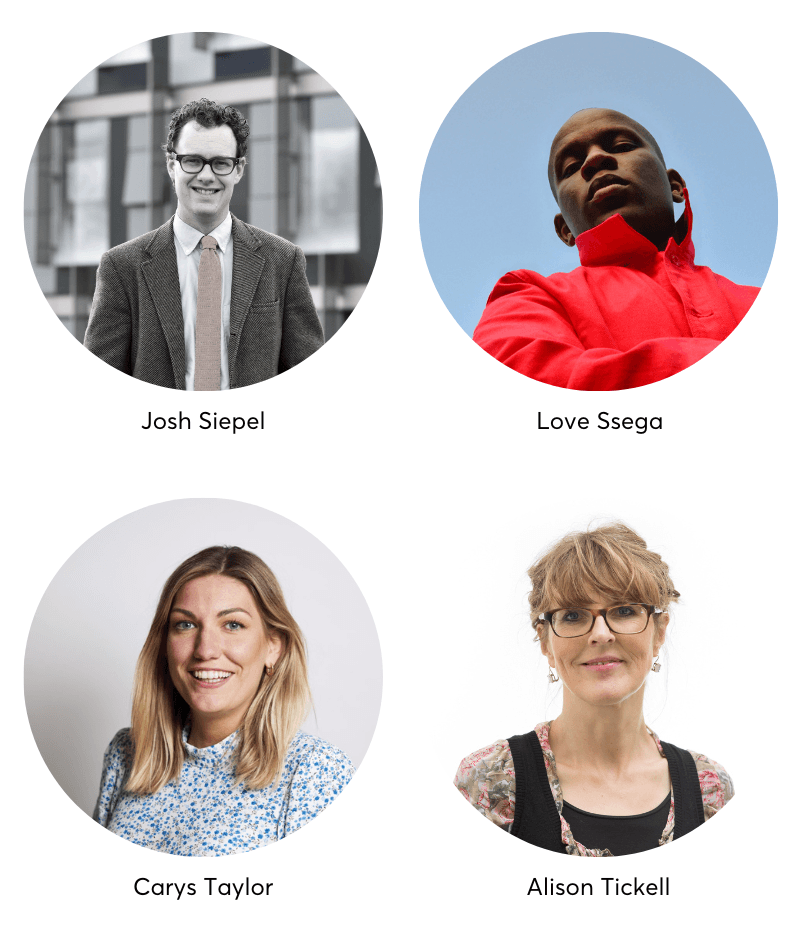 Speaker Biographies
Tom Adeyoola
Tom is a technology entrepreneur passionate about disruptive technology for societal and climate good. He was CEO and Founder of acquired apparel technology scale-up Metail (2008-2019).

He is currently a cofounder of nonprofits Extend Ventures, which aims to diversify access to finance for underrepresented founders through data and research, and the cross-school alumni Capital Angel Network. He also serves as Non-Exec Director for zero carbon monitoring consultancy Verco and environmental behavioural change start-up 'Do Nation' and previously served on the board of the revolutionary women's personal wellness scale-up Elvie.

Sir Peter Bazalgette
Sir Peter Bazalgette is Senior Independent Director on the board of Saga and also chairs LoveCrafts. From 2016 to 2022 he chaired ITV, and previously served on the board of Channel 4.

He led a 2017 independent review into the UK's creative industries and now serves as co-Chair of the Creative Industries Council. He also chairs the Council of the Royal College of Art. From 2013 until 2017 he chaired Arts Council England.

Sir Peter has also been a non-executive board member of UK Research and Innovation (UKRI) and currently chairs the Baillie Gifford Non-Fiction Book Prize Trustees. He's currently on the board of Department for Education and previously performed the same role for DCMS.

Leonie Bell, Director of V&A Dundee at Scotland's Design Museum
Leonie Bell is the Director of V&A Dundee Scotland's Design Museum. As Director, she is responsible for leading the organisation from its spectacular home in Dundee's reimagined waterfront, for delivering the museum's vision to inspire and empower through design, and for championing design and designers and the infinite possibilities they bring as catalysts of creativity and change

Leonie is also an Honorary Professor of Design at the University of Dundee's Duncan of Jordanstone College of Art & Design, a Design Economy Ambassador for the Design Council, a trustee of the Edinburgh International Festival and a member of The Empress Theophano Price Advisory Council.

Rishi Coupland, Head of Research and Insight at the BFI
Rishi Coupland is a strategist and leader with over twenty years' experience in delivering research, innovation and strategic programmes. At the BFI, Rishi leads the Research and Statistics Unit and is responsible for the National Lottery Research Fund and National Lottery Innovation Challenge Fund.

Prior to this, he held the roles of Head of Data Intelligence at the National Theatre, where he launched and led the sector flagship Data Studio, Head of Audience Strategy (National Theatre), Marketing Services Manager (Southbank Centre), and Senior Producer (Buzz-erk Productions).

Rishi began his career as a technologist and engineer with multinational companies in locations across the UK and Europe. In 2017 Rishi was awarded a Clore Fellowship, and he is a board member of London Arts and Health.

Gerwyn Evans, Deputy Director of Creative Wales.
Creative Wales is a Welsh Government internal agency that supports the development of the fast-growing creative industry in Wales. They focus on developing and promoting growth across a wealth of Creative Sectors including Film and TV, Animation, Games, Music, Comedy and Publishing; positioning Wales as one of the best places in the world for creative businesses to thrive

Lesley Giles, Director of Work Advance
Lesley undertakes research and analysis and provides policy advice around workplace innovation, skills and the world of work. Prior to this, Lesley was Director at the Work Foundation where she managed a work programme seeking to champion and advance Good Work.

In addition, Lesley was Deputy Director and Company Secretary at the UK Commission for Employment and Skills, where she provided guidance on skills and employment issues to Industry and Government. She is a Fellow of the Royal Society of Arts and a member of the Chartered Institute for Personnel and Development.

Bernard Hay, Head of Research and Design Practice at the Design Council,
Bernard Hay is a researcher, curator and educator working across contemporary design. He is Head of Research and Design Practice at the Design Council, the UK's national strategic advisor on design.

Previously he worked at the Design Museum, where he helped to establish the Future Observatory programme. His current projects include Design Economy – a national programme of research into the social, environmental and economic value of design – and the Design for Planet Fellowship.

Since 2019 he is an Associate Lecturer in critical theory and social innovation at University of the Arts London. He is a fellow of the RSA.

Martin Kretschmer, Professor of Intellectual Property Law at the University of Glasgow, and Director of CREATe
CREATe is the UK Copyright and Creative Economy Centre. He is leading the work stream on Intellectual Property and Regulation for the AHRC Creative Industries Policy & Evidence Centre (PEC). Martin has authored numerous studies at the interface of law, social science and digital technology, including for the UK Cabinet Office, UK Intellectual Property Office, European Commission, European Parliament and research councils AHRC, ESRC, EPSRC.

Caroline Meaby
Caroline Meaby was until recently Director, Arts Network, British Council, overseeing the activity of 300 specialist Arts and creative industry staff across the world, as well as leading the global creative economy portfolio.

Caroline has 25 years experience in the creative industries, having started her career as an entertainment news journalist before ten years as a producer at the BBC. Before joining the British Council in 2013, she was Talent Schemes Director at the Edinburgh International TV Festival.

Caroline is currently studying full time for a MSc in Organisational Psychology, alongside being a Trustee of Arts Council England NPO Studio 3 Arts. She was born and bred in East London and is of white British, Indian and Malawian heritage.

Chris Michaels, Director of The Reel Store
Chris Michaels was appointed as The Reel Store Director in November 2022, responsible for the strategic direction, curatorial leadership, and venue management.Prior to joining The Reel Store, Michaels was Director of Digital, Communications and Technology at the National Gallery, London.

He is a Visiting Senior Research Fellow at King's College London and was the Creative Industries Fellow at the Arts and Humanities Research Council, and a Bloomberg Technology Fellow. He was named a 5G Trailblazer by Ericsson in 2021, and a Power 10 Museum Influencer by Blooloop in 2022. He is a Trustee of The Collections Trust and The Audience Agency. Before he joined the National Gallery, he was Head of Digital & Publishing at the British Museum.

John Newbigin OBE
John Newbigin is co-founder and first Chair of Creative England (from 2011 to 2018), a public/private partnership that invests in creative content businesses and digital technology.

As Special Advisor to the UK Minister for Culture, Rt Hon Chris Smith MP, he was part of the team that developed the UK government's first policies for the creative industries in the 1990s. He is London Mayor Sadiq Khan's Ambassador for the Creative Industries and a Board member of the London Economic Action Partnership and the Mayor's Cultural Leadership Board for London.

He was awarded an OBE for "services to creative industries and the arts" in the Queen's 2015 New Years Honours List.

Caroline Norbury OBE, Chief Executive of Creative UK
Creative UK is the independent network for the UK's Creative Industries working to support and invest in creative talent and businesses, and unite the UK's creative industries.

Caroline sits on the Creative Industries Council and chairs the Investment for Growth sub-group of the Council. She is a non-executive director of Crowdfunder, the UK's largest rewards-based crowdfunding platform; a member of BAFTA and the Royal Society of Arts and a trustee for the PRS Foundation, a charity supporting new music and talent.

She was awarded an MBE in 2012 for services to the film industry, and has recently been awarded an OBE for her leadership and advocacy in shaping the creative sector's response to the Covid-19 pandemic.

Professor Paul Moore
Professor Moore joined the University of Ulster in 1999 and has since been active in the development of the creative arts/industries policy in the university. He is now Director of Future Screens NI, the AHRC funded creative industries cluster for NI, and is a Co-Director of Ulster's Creative Industries Institute (CII).

His research is focused on both the creative industries and the ways in which theory and practice can be brought together in research, training and education. Most recently he has been involved in various arts data research projects with national bodies such as Nesta in the UK.

Sara Louise Pepper

Gyd-Gyfarwyddwr ar yr Uned Economi Greadigol ym Mhrifysgol Caerdydd
Mae Sara'n Gyd-Gyfarwyddwr ar yr Uned Economi Greadigol ym Mhrifysgol Caerdydd. Ei rôl yw cynnig arweiniad a chyfeiriad strategol i'r Uned a'r tîm. Ar hyn o bryd mae hyn yn cynnwys mentrau ymchwil ac ymgysylltu fel y rhwydwaith dinas greadigol Caerdydd Creadigol, Clwstwr, prosiect Ymchwil a Datblygu gwerth £9 miliwn sy'n hybu arloesedd yn economi Cymru, a Media Cymru, rhaglen £50 miliwn a ariennir gan Strength in Places UKRI.

Ar gyfer Media Cymru bydd gwaith Sara'n canolbwyntio ar ddatblygiad a chyflawniad strategol y rhaglen gan gynnwys llywodraethu, rheoli, syniadaeth arloesi, gweithredu ac allbynnau, gofodau, partneriaethau a chydweithrediadau rhyngwladol.

Co-Director of the Creative Economy Unit at Cardiff University
Sara works on research and engagement initiatives such as creative city network Creative Cardiff, Clwstwr a £9 million R&D project promoting innovation in the Welsh economy and Media Cymru a £50 million UKRI Strength in Places funded programme. For Media Cymru Sara's work will focus on the strategic development and delivery of the programme including governance, management, innovation ideation, implementation and outputs, spaces, partnerships and international collaborations.

Previously Sara has held a variety of posts from producer to project manager for organisations such as the Southbank Centre, the Wales Millennium Centre, the Riverfront Theatre, Hull University School of Arts & New Media & the Sydney Olympic Games 2000. Sara is currently a member National Trust Wales Advisory Board.

Lara Ratnaraja, Independent Cultural Consultant
Lara is a Cultural Consultant who specialises in diversity, innovation, leadership, collaboration, and cultural policy implementation within higher education,, cultural and digital sectors. She also co-created the Hello Culture event series

With Helga Henry, she co-produced RE:Present, ASTONish, AD:Vantage and EmPOWer; leadership development programmes which supported the development of cultural leaders from diverse backgrounds.

Lara is on the board of Derby Theatre, Vivid Projects and Coventry Biennial and the Advisory Group for SHOUT Festival. She is on the UK Council for Creative UK and the Equality Monitoring Group for Arts Council Wales. Lara is an Associate of The Fifth Sector team working on a number of projects with a focus on inclusion and digital.

Fran Sanderson, Director, Arts & Culture Investments and Programmes, Nesta
Fran Sanderson has been at Nesta for six years and has overseen the development of Arts & Culture Finance, which manages over £30m of impact capital on behalf of eight funders, including Nesta.

She has led on various projects including Nesta's involvement in the RSC's Dream project, for the Industrial Strategy's Audience of the Future programme; Amplified, a grant and structured support programme helping cultural and creative organisations to use digital ideas to generate social impact; a Creative Immersive Mental Health fellowship programme with StoryFutures looking at the role of creatives in engaging users; and Alternarratives, a prize designed to bring the short story form into the 21st century with the aim of reigniting interest in reading for pleasure among young people.

Josh Siepel, Senior Lecturer at the Science Policy Research Unit (SPRU) at the University of Sussex Business School.
Josh leads the Creative PEC's work on Creative Clusters, Innovation and R&D, and Access to Finance. His research links together policy-relevant issues involving creative industries, clusters, skills, innovation, entrepreneurship and finance.

He was the lead author of the PEC Creative Radar reports and has also published research for the PEC on rural creative microclusters, R&D in Createch businesses, and access to finance for innovators in the creative industries.

He has served on multiple advisory boards and currently sits on the Advisory Board for the DCMS Create Growth Programme. He has a BS in genetics from Texas A&M University and an MSc and DPhil from the University of Sussex, where he was a Marshall Scholar.

Love Ssega, Artist-In-Residence with Philharmonia Orchestra
Love Ssega is a musician, producer and performer, currently Artist-In-Residence with Philharmonia Orchestra. He has been commissioned to create site-specific performances and work for the National Gallery, Serpentine Pavillion and MoMA PS1, New York and his environmentally-focussed work was shown at United Nations COP26 and also featured by The New York Times for Climate Forward.

Love Ssega's latest arts and air pollution awareness project, LIVE + BREATHE, galvanised Black and Brown community groups in South London for creative climate action. Love Ssega was awarded Arts Foundation Music For Change Fellowship in 2022 and is a Trustee of both Shadwell Opera and Brian Eno-led climate charity EarthPercent.

Carys Taylor, Director of Albert
Albert is the home of sustainability for the TV and film industry. Prior to taking up the role, Carys was at National Grid where she worked on solutions to decarbonise transport, the biggest contributor to UK carbon emissions. She is no stranger to the TV industry however, having also worked at BBC Studios as an advisor to Tim Davie, advocating for the UK creative sector.

Carys also spent some time working in UK Parliament and studied international politics where she examined the role of media in shaping international attitudes to debates for her dissertation.

Alison Tickell, CEO of Julie's Bicycle
Alison established Julie's Bicycle in 2007 as a non-profit company helping the music industry reduce its environmental impacts and develop new thinking in tune with global environmental challenges. Julie's Bicycle has since extended its remit to the full performing and visual arts communities, heritage and wider creative and cultural policy communities.

Originally trained as a cellist, Alison worked with seminal jazz improviser and teacher John Stevens. She worked for many years at Community Music and at Creative and Cultural Skills where she established the National Skills Academy.